I had intended to include some of these in my first list, but it got so big I decided to make a separate list for cartoons.
There were a lot to choose from and I surely left some out, but these I thought had the best intros based on pretty much the same criteria as the TV shows.
5. Scooby-Doo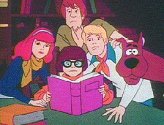 I think I saw more episodes of this than any other cartoon. And for some strange reason, I never got tired of it (that is until they added scrappy-doo). Who was your favorite guest stars? Don Knotts? Sonny and Cher? Batman and Robin? The Harlem Globetrotters? I can't think of any cartoon that had real people as guests on the show (or lasted so long with the same plot for every episode). Great 70s theme music too.
4. Thundarr the Barbarian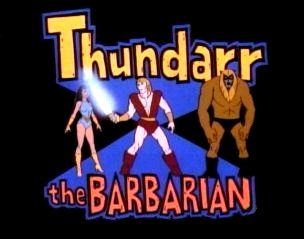 Are there enough Star Wars rip-offs in this one? Toss in Conan for good measure and you've got a great formula for Saturday morning. Probably my first memory of must-see TV.
3. G.I. Joe
What's not to love. Action packed. Great theme. Patriotic. Scarlett and Lady J, and don't forget the Baroness. One of the all time great cartoons. By the way, if I lived in the G.I. Joe universe, I would invest heavily in companies that manufacture parachutes.
2. Samurai Jack
"Long ago in a distant land..."
Perhaps the best cartoon ever, the Samurai Jack intro starts with his origin narrated by his nemesis, Aku (voiced by Mako, the wizard from Conan the Barbarian). It then transitions into a cool theme song stylishly intermixed with scenes from the cartoon.
1. Challenge of the Superfriends
This was simply my favorite cartoon as a kid, due in no small part to its awesome intro. It was the most epic, pump you up, starting to any show ever. The theme could have been used in recruiting advertisements. The show made you feel like you had a duty to watch and support the Superfriends' heroic struggle against the Legion of Doom (Even with the politically correct additions of Black Lightning, Apache Chief and Samurai).
And while we're at it, remember these?
Dungeons and Dragons
Tarzan
Voltron