One of the consequences of having kids is that opportunities to go see movies are far more infrequent. Consequently, I have been renting more movies and have been pleasantly surprised by my most recent choices.
The Illusionist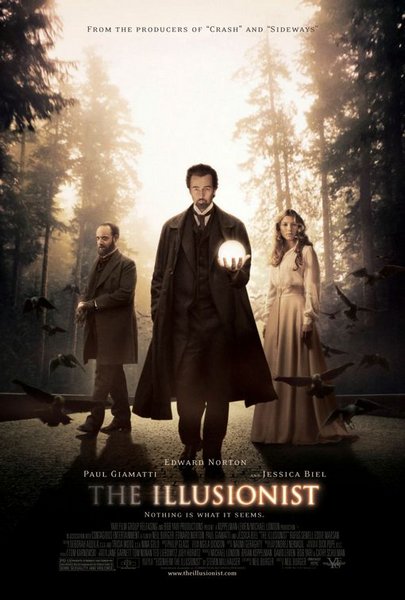 This movie blew me away, mostly because I didn't see it coming. I never heard much about it while it was in the theater, largely because I was looking forward to the other turn-of-the-century magician movie
The Prestige
. The Illusionist looked like a cheaper knock-off, in the hollywood tradition of releasing two movies with similar plots at the same time by different studios (
Tombstone
and
Wyatt Earp
,
Antz
and
A Bug's Life
,
Deep Impact
and
Armageddon
).
I haven't seen The Prestige yet, but The Illusionist is one of the most unique movies I have seen in a long time. Based on a short story "Eisenheim the Illusionist," by Steven Millhauser, this movie is thoroughly enjoyable and well acted. Edward Norton and Paul Giamotti are especially good. The plot wasn't terribly original, but the story is unlike any that I've seen before.


Invincible

This was yet another feel good sports underdog story by Disney in the tradition of
Remember the Titans, The Rookie, Miracle, and Glory Road.
That's OK becasue these were all good movies and based on true stories. Like the others, this is a well made movie with fine performances from everyone involved. Its also the first professional football movie endorsed by the NFL, so they can use real NFL teams and player names. And it does add and sense of authenticity to the movie. However, the movie isn't remarkable in any way and I cannot help but feel like these movies are becoming a bit formulaic. Even so, its well done and I enjoyed it.
Miami Vice
Although some look back on television show and laugh, I thought Miami Vice was a cool show. I saw the first episode of the show the other night on TV and was surprised how well it still holds up. Its obviously very 80s, but not campy or so dated that its distracting. Michael Mann created the show and moved on to make a lot of good movies such as
Last of the Mohicans, Heat
, and
Collateral
. So if figures that the new Miami Vice is in good hands.
The new Miami Vice is an excellent movie. Its also very adult, with plenty of violence and a fair share of sex, but its all in context and not for its own sake. This movie is so slick, both visually and dramatically that I was hooked immediately. Even better, the movie has a great pay off at at end in the form of a great shoot out. Just like the original show, this movie epitomizes "cool."